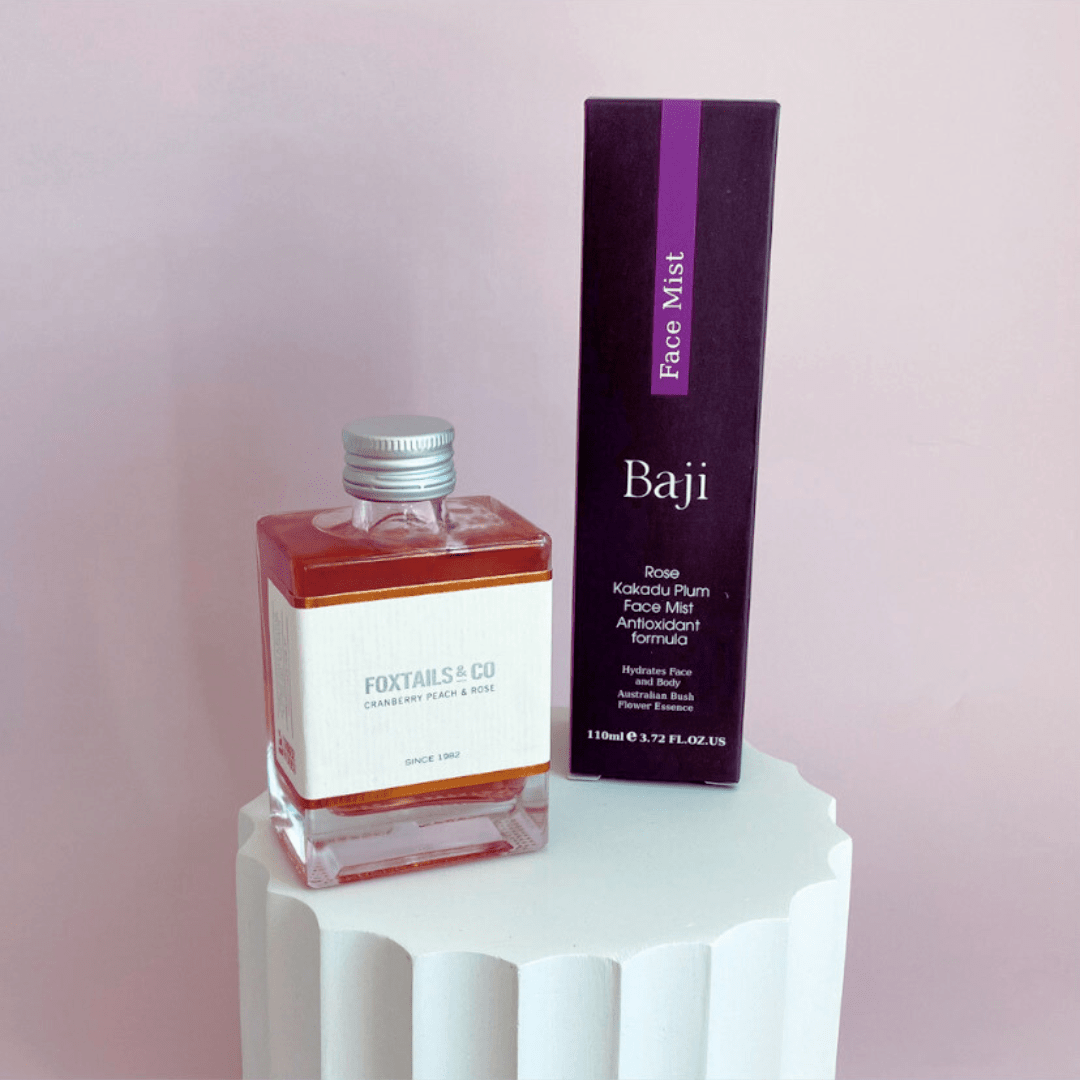 BAJI KAKADU PLUM ROSE FACE MIST & COCKTAIL BUNDLE
Free Express Shipping For Orders Over $95
Baji Kakadu Plum Rose Face Mist & Cranberry Peach and Rose Cocktail
This refreshing Kakadu Plum Rose Face Mist Antioxidant formula hydrates both the Face and Body. Contains soothing Aloe Vera, and glycerine which helps boosts skins hydrating levels. With the added benefit of natural Vitamin E, Vitamin B5, Kakadu Plum, (known as the richest source of Vitamin C), Quandong extracts, combined with unique botanical extracts, formulated to boost antioxidants which serves as a cofactor in supporting the skins rejuvenating process whilst delightfully lifting your mood.
Foxtails & Co Cranberry Peach Foxtail is totally tantalising. Sweet and tart berries mingle with perfectly ripe peaches. Great for boozy brunch with the girls and summer party vibes all year round.
110ML | 13% ALC/VOL | 1.1 STD DRINKS
PERSONALISATION
Choose from the gift wrapping options and add your personal message. The card may be delivered either blank or personalised with a handwritten message of your choice. Please leave your personal message in the NOTES section upon checkout.
DELIVERY
Rest assured, each curated gift box is carefully handpacked and will ship with no receipts and no pricing information. This way you can choose to ship directly to your gift recipient or ship to yourself and hand deliver the gift.
Your order will be packed and dispatched from Peony Parcel within 2-3 business days, excluding weekends and public holidays. Any items titled "pre-orders" will be shipped as per the description.
Once your order has been shipped, you will receive a shipping confirmation email with a tracking number. If you do not receive this please contact us. Please allow up to 12 hours for tracking to show as it takes time between packing and first scan when onboard for delivery.
For further information on Australia Post delivery times, please click here.