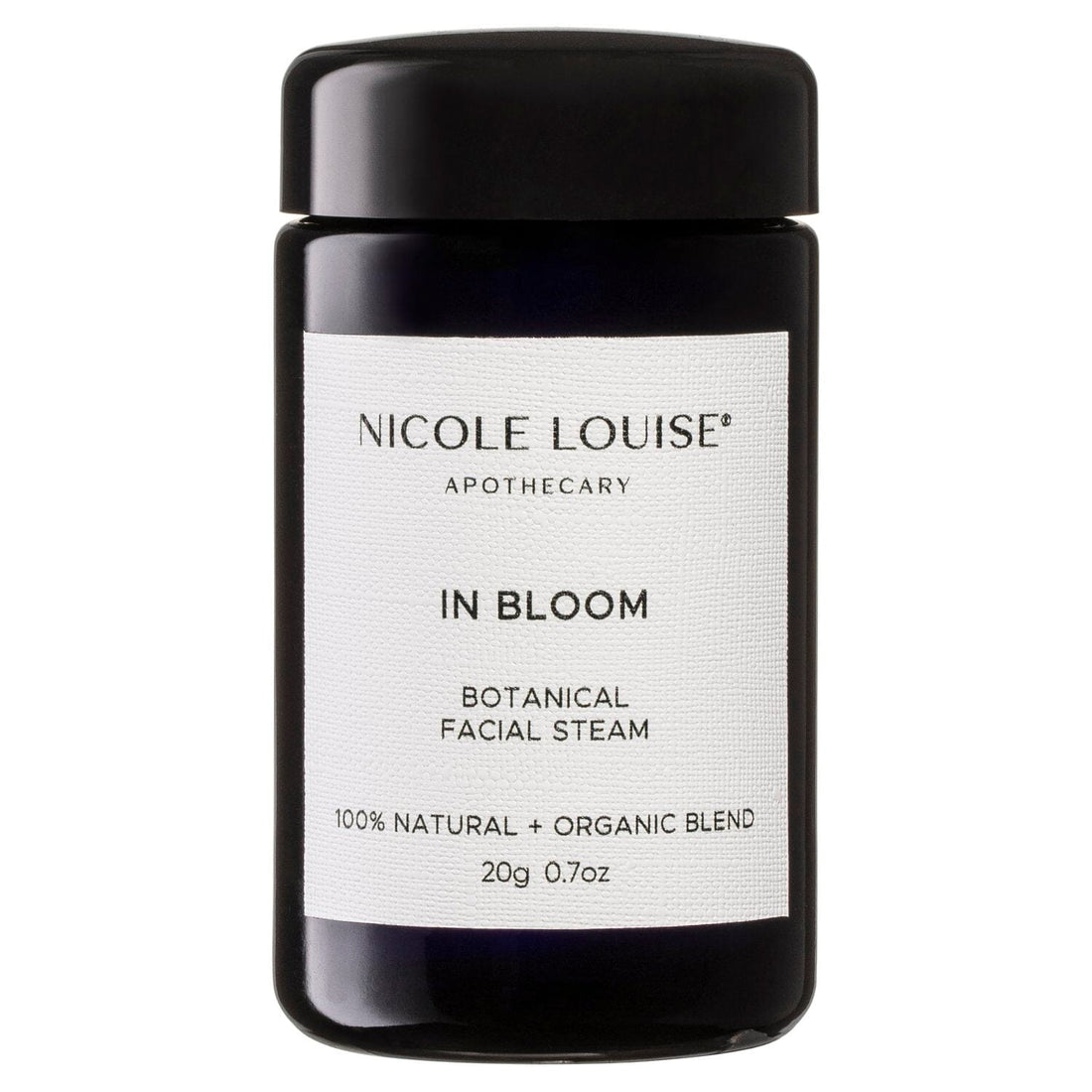 IN BLOOM BOTANICAL FACIAL STEAM
Free Express Shipping For Orders Over $95
Nicole Louise Apothecary - IN BLOOM.
Your beautiful invitation to slow down, recharge and reset.
Our all natural facial steam is a deep, pore cleansing treatment that purifies the skin and relaxes the senses. A unique blend of wild crafted and organic botanicals detoxify, increase blood circulation and oxygenate your skin. The aromatic botanicals, soothing warm sensation of the steam and quiet time can elevate stress and enhance mental well being.
Add facial steaming to your weekly skincare regimen to help eliminate toxins, boost cellular hydration and prep your skin for additional treatments.
BENEFITS:
Moisturise skin

Boost blood flow and circulation

Increased blood flow can promote collagen

Impart a healthy, radiant glow to your complexion

Prep skin and boost the efficacy of further facial treatments

Peaceful and relaxing treatment
The Ritual:
Add a capful of botanicals to a bowl and cover with water just off the boil. Allow to steep for a few minutes. Drape your head in a towel to capture the aromatic steam, being mindful not to put your face too close to the bowl. Close your eyes, breathe deeply and enjoy these quiet moments of meditative calm. For maximum results we recommend a facial steam once per week and advise not to put your face to close to the bowl, the steam should be warm and comforting, never hot and uncomfortable. Limit your steam to 10 minutes.
Hot Tip:
After your steam, strain the botanicals and use the nutrient rich water to mix your clay masque or add to bath water to capture the phytonutrients of the plants and enhance your next beauty treatment.
Ingredients:
Calendula officinalis, Matricaria recutita, Chrysanthemum morifolium, Sambuccus nigra, Hibiscus sabdariff, Jasminum officinale, Lavendula angustifolia, Alousia triphylia, Rosa centifolia, Hamamelis virginiana.
100% Natural + Organic
Small batch
Cruelty free
PERSONALISATION
Choose from the gift wrapping options and add your personal message. The card may be delivered either blank or personalised with a handwritten message of your choice. Please leave your personal message in the NOTES section upon checkout.
DELIVERY
Rest assured, each curated gift box is carefully handpacked and will ship with no receipts and no pricing information. This way you can choose to ship directly to your gift recipient or ship to yourself and hand deliver the gift.
Your order will be packed and dispatched from Peony Parcel within 2-3 business days, excluding weekends and public holidays. Any items titled "pre-orders" will be shipped as per the description.
Once your order has been shipped, you will receive a shipping confirmation email with a tracking number. If you do not receive this please contact us. Please allow up to 12 hours for tracking to show as it takes time between packing and first scan when onboard for delivery.
For further information on Australia Post delivery times, please click here.